Last weekend, Steve and I went to the Antiques Roadshow in Baltimore. We brought the following "treasures":
One heavy bronze pot from Borneo (brought back by my mom in the 1960s)
One letter from the last Spanish viceroy to Colombia in an ornate frame
One painting of the C&O Canal
One battered Civil War sword with scabbard
We arrived at the convention center with our stuff at 8:40 a.m. with our fancy VIP tickets, obtained through a $200 donation to Maryland Public Television. We made our way past a lone Starbucks and down a few flights of stairs to the windowless event hall.
Most people are assigned an entry time on the hour. Ours was up to us, thanks to the special tickets. By arriving at 8:40 a.m., we were funneled into the 10 a.m. line -- apparently you had to be there by 8:30 a.m. to be funneled into the 9 a.m. line. We were in for an hour and a half of shuffling forward, chatting with those near us in the long, long line.
Most of the interactions involved people showing Steve their own swords and asking about his (he played it close to the vest, telling the strangers only "it's 19th century"). A few people approached us and inspected the Spanish document, trying to read it. The archaic version of Spanish, combined with a sloppy cursive apparently written with a quill pen, made deciphering the document close to impossible. At the front of the line, we were sent to a table for tickets to the individual appraisal tables (of which there were maybe 35-40).
We finally made our way to the entrance to the Roadshow set, which was surrounded by tall blue curtains. Photos on the set were not allowed. The set was much smaller than it looks on TV. It was very cramped, easily smaller than a basketball court, with the appraiser tables around the perimeter and a large portion of the center reserved for the on-camera appraisals. Attendees were prohibited from walking through the center. The lines for the more popular tables (such as pottery, paintings, and jewelry in particular) snaked around the edge of the room, blocking access to the less-popular tables.
As luck would have it, we entered the set at the Arms and Militaria table. A young blond appraiser saw Steve coming with his sword and reached out his arm. "I can take your sword over here, sir," he said with a soft southern accent. We approached the table, and the appraiser's eyes started twinkling. He asked Steve where the sword came from, and Steve told him it had been in his family and was said to be a sword used by a Confederate soldier in the Civil War. The appraiser nodded and told us it was known as a "dogrun sword" (we can't find this on the Internet so we wonder if we heard him wrong -- we're looking into it) and was a common Confederate knockoff of a popular Union sword. The appraiser admired the scabbard in particular, telling us that you rarely find a scabbard intact. He told us a few more tidbits, and then came the big moment: "Do you know what the value of this sword might be?"
I could not believe he asked us that -- it was just like being on TV! I became visibly excited as Steve tried to remain cool, randomly throwing out a number. "Maybe $500?" The appraiser grinned widely. "A sword like this, if it were to come to auction, would easily go for $2,500 to $3,500. If you got it restored, it would be worth at least $7,000." WOW. He then offered the following interesting trivia: even though Steve's sword is a copy of a Union sword, the Union sword is worth much less -- only $500. "It's a really cool sword," the appraiser said. "Not cool enough for TV, though, huh?" Steve asked. "Well," the appraiser said, "I actually already pitched a couple of items. But your sword is
really
cool."
We thanked the appraiser and rushed off happily to the next stations. Steve saw a long line for the documents and manuscripts table, so he went over to that (for his Colombian document) while I got in line at the Asian Art table. Right before Steve left, he pointed to one guy with a bowtie and said, "he's really famous -- he's on TV all the time." So 10 minutes later I found myself in front of the bowtie guy and handed him the bronze pot from Borneo. It's actually in three pieces -- a stand, a top, and the round body. The appraiser pointed out that the stand didn't match the top or the body, and told me that it was a food preparation object, and was about 100 years old. My interpretation is that it was the equivalent of a primitive Borneo fondue pot. He handed it back to me in pieces and I thought to ask how much it was worth. "About $50," he said dryly. Man, was I embarrassed. So embarrassed that, as I started putting the pieces of the pot back in my bag, I dropped the top. Being bronze, it resonated loudly as it hit the appraiser's table.
BOOOONNNNNGGGG!
Amid a chorus of stares, I grabbed the top and shoved it in my bag, saying something lame like "the good thing about bronze is that it doesn't break easily" as I fled the scene.
I found Steve preparing to talk to the manuscripts guy, who, it turns out, didn't speak Spanish so he couldn't determine the value of the document. He did say it looked great and he admired the frame. Our last item was the C&O canal painting, so we prepared for a long wait in the paintings line.
Meanwhile, the host, Mark Walberg, was taping promos for the program in between signing autographs for eager fans. He had a small patch of carpet set aside for his work, and between tapings, he practiced his speaking. "EDgar ALlen POE, one of BALtimore's FAmous SONS," he boomed, pacing around the carpet. "POE. POE. EDgar. EDgar. EDgar ALlen POE." He came off as a big loser, with his TV smile and his emphatic vocal practicing, surrounded by the cacophony that is the Roadshow set.
The paintings line snaked forward, and we saw a few more treasures in passing. One woman's alligator bag -- complete with alligator-head clasp and little alligator arms -- had been appraised at $1,200. The woman behind us in line said she'd had one too and had thrown hers out because it was ugly. I can't say I'd pay $1,200 for that, but one man's trash is another man's treasure, right?
In an anticlimactic finish, our painting was worth about what we paid for it, which was $300. The appraiser said something to the effect of, "Well, when I saw you coming up with your painting, I thought, we might have something here. It looked bright and had a sparkle. But it doesn't hold up to a close inspection." We still like it though -- nobody will be shining a florescent light on the painting while it's on the wall at our house.
It was about 11:45 a.m. when we found ourselves fleeing for the exit. There was noplace to talk about your Roadshow experience as there seems to have been in prior years. (There had been a booth on the way in, but who wants to talk about their stuff then? Especially since it just means you'd fall farther and farther behind in line for entry as you waited to film your bit.) I sat under the Roadshow banner while Steve went to use the restroom, and I called my mom to tell her about her pot.
Below, Steve with his sword and document under the big banner at the exit.
Incidentally, we think the Roadshow misses a major opportunity for merchandise sales. There were no t-shirts, mugs, nothing for sale at all. We definitely would have bought a t-shirt or something. As it was, the only way to get a shirt was to sign up to be contacted regarding a home-equity loan or something like that. No thanks.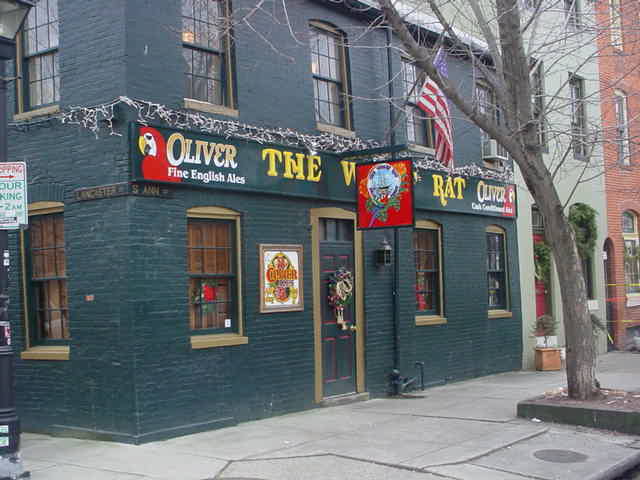 We then climbed out of the bowels of the convention center into the bright summer sun, and spent the rest of the day out and about in Baltimore. In the evening, we went with our friends Annie and Patrick to the historic Wharf Rat pub on Ann Street in Fell's Point, the older sibling of the shiny new
Wharf Rat
by Camden Yards. We highly recommend this Fell's Point bar, which has been in business for more than 200 years and has seen a lot of changes. The ales have been featured in Bon Appetit and on the Food Network. It also had a men's room that Steve found astounding -- but that's a story we'll save for a different day.